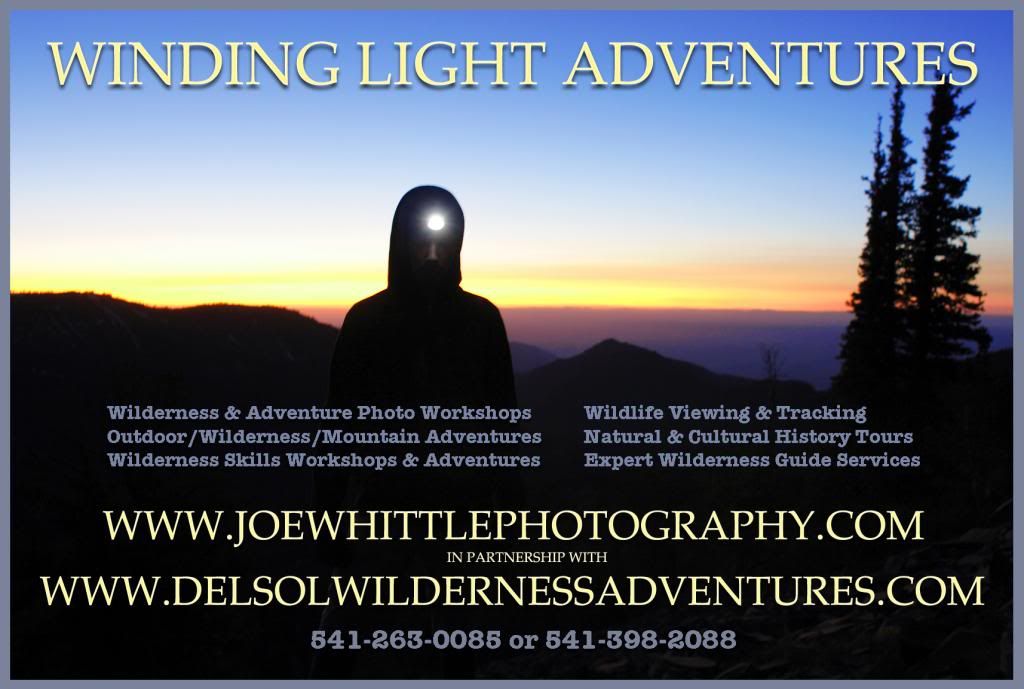 Wilderness Photography Workshops & Expeditions
How would you like to be given the key to the Pacific Northwest's best-kept outdoor and adventure secrets? To photograph some of the wildest, most remote, beautiful, pristine, and rugged wilderness left in the lower 48 United States? Join us in Oregon's Eagle Cap Wilderness and Wallowa Mountains, (the largest wilderness area in Oregon, containing more peaks over 9,000 feet than any other mountain range in the state); or, in Hell's Canyon, where the mighty Snake River flows through North America's deepest gorge, forming the wild Northern Oregon/Idaho border. A place where the history of ancient peoples like Chief Joseph's tribe the Nimiipuu (Nez Perce) is literally written on the canyon walls in red ocre pictographs and petroglyphs.

In partnership with

Del Sol Wilderness Adventures

, Joe Whittle Photography is excited to offer "Winding Light Wilderness Workshops"; the Pacific Northwest's premier "true wilderness" backcountry photography workshop & expedition outfitters. We offer one-of-a-kind fully outfitted multi-day wilderness photography expeditions. Our specialty is delving deep into the seldom explored backcountry of the Pacific Northwest, far beyond trailheads and parking lots into some of the wildest country left in the lower 48. A typical day on one of these adventures would begin photographing sunrise over an 8,000 foot crystal blue alpine lake; and end photographing sunset over a river headwaters flowing from the heart of one of the highest peaks in the Pacific Northwest. In between you would fill your heart and memory cards with more beauty and adventure than you can imagine. Miles and miles from civilization, far within the boundaries of the largest wilderness area in Oregon, or the deepest river gorge in North America, you will see the Pacific Northwest that remains as beautiful, pristine, rugged, and unchanged as any landscape found on the continent. Discover the diverse natural history and culture that are connected to and thrive within it, and take home photographs and memories to

grace your walls and

warm your heart for a lifetime!
(
Continued Below)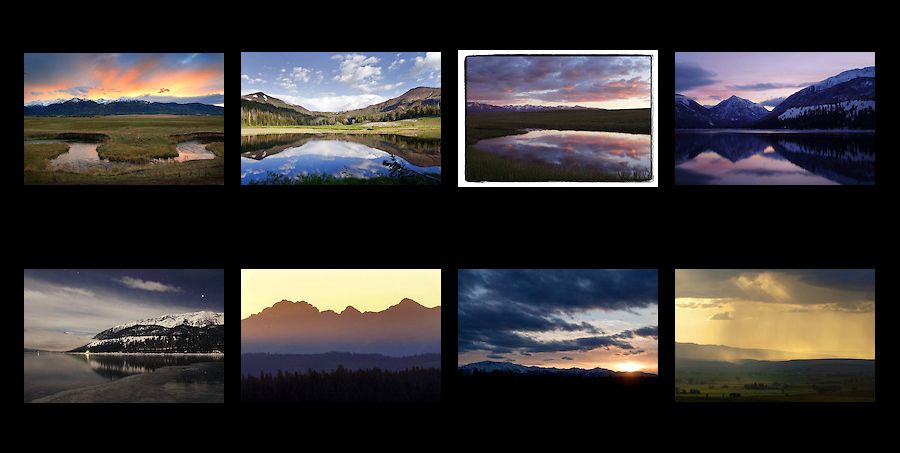 We at Del Sol Wilderness Adventures and Joe Whittle Photography are excited to share this beautiful and special part of the country with anyone eager to experience it. We absolutely love facilitating the ability to explore this secret jewel of the Pacific Northwest. We love watching the sparkle in people's eyes and the smiles on their faces as they capture memories and photos to inspire a lifetime. Your inspiration, is our inspiration.

Join award-winning and veteran nature, adventure, documentary, and commercial photographer, Joe Whittle, as he shares his favorite secret wilderness photography locations; and, the professional 'tricks of the trade' he's picked up over his career and education, from his time studying at the reknown Brooks Institute of Photography, through his years traveling the country and world photographing assignments for a multitude of clients and publications. Glean helpful knowledge and advice, not to mention stunning photos, as he leads you to some of the most beautiful locations in the Pacific Northwest while sharing valuable information from his education at Brooks Institute and his time working as a pro photographer and photojournalist over the last 14 years. Furthermore, Joe's experience as a mountaineer, backcountry guide, and former wilderness ranger for the US Forest Service offers a unique opportunity to learn wilderness skills and tips that will enhance both your nature photography, and your wilderness adventure. The best part is, with the trusty and sure-footed mountain horses and mules provided by Del Sol Wilderness Adventures, we are able to offer these opportunities to people of all ages; varied physical conditions; varied backcountry and adventure goals; and varying skill levels of photography, from the the beginner, to the experienced pro looking for some new locations that are hard to find and mostly unkown to add to their portfolio.
(Packages and prices listed below)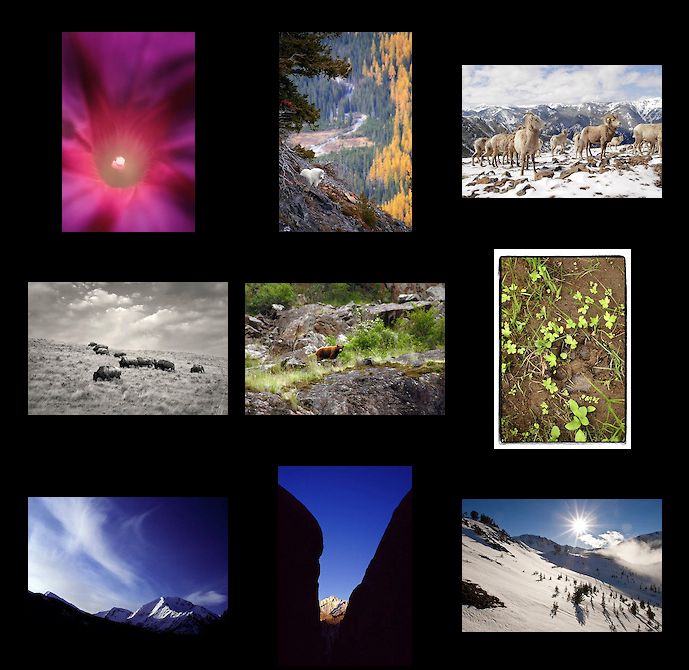 W
ORKSHOP INSTRUCTION & PHOTO GUIDE RATES AND PACKAGES
SINGLE PERSON/SINGLE DAY WORKSHOP OR PHOTO EXPEDITION: $280 Per Day
Individual workshop and expedition locations and coverage can be tailored to fit the client's needs and priorities.
(This is the least cost efficient option for both the company, and the client. We encourage our clients to book with friends or family, and/or for multiple days-as our rates get cheaper with additional people and additional days due to overhead and initial costs of mounting a guided backcountry excursion.)
GROUP DISCOUNT: 10% PER PERSON WHEN BOOKING AT THE SAME TIME-UP TO TEN PEOPLE
10% of the initial day rate per person will be subtracted from the overall cost of a group booking together with more than one person. For instance, if the maximum number of ten people booked a workshop together, the tenth person would be free. In the case of multi-day workshops, seasonal packages will also be offered during various times of year that are 6-10 person trips booked on a first come first serve basis. These trips offer group discount rates, but do not require booking with another person. Seasonal workshops will be announced on this website as they become available.
MULTI-DAY RATES:
TWO DAY WORKSHOP- $250 Per Day
THREE DAY WORKSHOP- $235 Per Day
FOUR DAY WORKSHOP- $220 Per Day
FIVE DAY WORKSHOP- $200 Per Day

The longer the workshop or expedition, the more advanced the skills coverage will become; and/or, the further and more remote the backcountry coverage will become, depending on the clients' needs and priorities. Thorough client/guide discussions will take place at the time of booking to determine the best adventure for each group. We like to give our clients the ability to craft the experience most suited for them. Pre-scheduled seasonal trips will have set themes and instructional coverage however, which will be detailed as they are announced.

MULTI-DAY "DELUXE" AND "DROP" CAMPS/PACKING & OUTFITTING RATES & SERVICES

Our partnership with Del Sol Wilderness Adventures allows us to offer completely outfitted pack animal services or pack animal drop services within the Eagle Cap and Hell's Canyon Wilderness areas and Wallowa-Whitman National Forest. We can carry both you, and all of your gear, as well as provide your food and shelter and ammenities within a truly "rustic" yet comfortable camping atmosphere inside the wilderness area; or, we can simply pack your gear and camping supplies which you have provided to a pre-designated location and drop them off, and our guides will hike up with you and stay through the duration of your workshop or expedition. Given the weight of camera gear, especially for those few classic large format film camera landscape photographers left out there, or video/motion picture photographers, we have found that the use of pack animals to access remote and rarely trodden wilderness locations to photograph is invaluable. Whether one chooses to ride up and have their entire camp experience provided for them, or simply to use the animals to get their heavy base camp set up and begin any multitude of adventure/photography excursions. Packing rates and services are seperate from guiding rates and services however. For complete details on the services Del Sol Wilderness Adventures offers and further details about their deluxe camps, click here. Fees for pack and outfitting services as provided by Del Sol are as follows:

DELUXE CAMP- $225 Per Day
Provided by Del Sol Wilderness Adventures along with ride or walk services: horses, horse wrangler, food, fully stocked kitchen/dining tent (14x16), camp cook, & sleeping tents. Provided by you: a passion for photography and a sense of adventure. (A recommended personal supply list will be given at the time of booking. All meals are provided.)

HIKER DROP CAMP-
The most poplular service that Del Sol Wilderness Adventures provides is called the "Hiker Drop". This is where they basically act as a "taxi" service, getting you and your gear high into the Eagle Cap mountains or down into the Hell's Canyon Wilderness Area. Some people elect to hike in, while others choose to ride in on one of our trusty riding horses. The cost for this service is based on the number of animals it takes to get you and your gear to your camp. (*Each Pack Animal Can Carry 120 Pounds)
There is a $500.00 minimum pack service fee per trip (pack out is seperate from pack in), which includes the first 2 animals. Each additional animal is $100 after that.
Example Pricing Scenario:
A typical scenario for a group of four: The scenario is that the party will have 300 pounds of camping gear and that 2 of the 4 want to horseback ride into camp, while the other 2 hike in. However, on the pack out, all 4 wish to hike out.
The pricing would work out as follows...
PACK IN
3 Pack Animals and 2 Riding Animals
$500.00 Minimum charge for the first 2 animals
$300.00 for additional animals. (3 * $100.00)
Charge to PACK IN: $800.00
PACK OUT
3 Pack Animals and 0 Riding Animals
$500.00 Minimum charge for the first 2 animals
$100.00 for additional animals. (1 * $100.00)
Charge to PACK OUT: $600.00
TOTAL TRIP CHARGE: $1400.00

As with guiding fees, the most cost efficient way to book a "Drop Camp" is to book with friends and/or family and share costs for pack animals. Packing light and/or packing part of your gear yourself in these instances can also save money on usage of pack animals.

CALL US TODAY WITH ANY QUESTIONS AT 541-263-0085 (JOE WHITTLE PHOTOGRAPHY-Call first for photo workshops.)
OR AT 541-398-2088 (DEL SOL WILDERNESS ADVENTURES)

(Del Sol Wilderness Adventures-primary outfitter for these workshops and expeditions-operates under an outfitter/guide permit from the U.S. Forest Service for the Wallowa-Whitman National Forest, Eagle Cap Wilderness, and Hell's Canyon Wilderness. We are fully licensed, bonded, and insured.)

A VIEW FROM ONE OF OUR EAGLE CAP WILDERNESS BASE CAMPS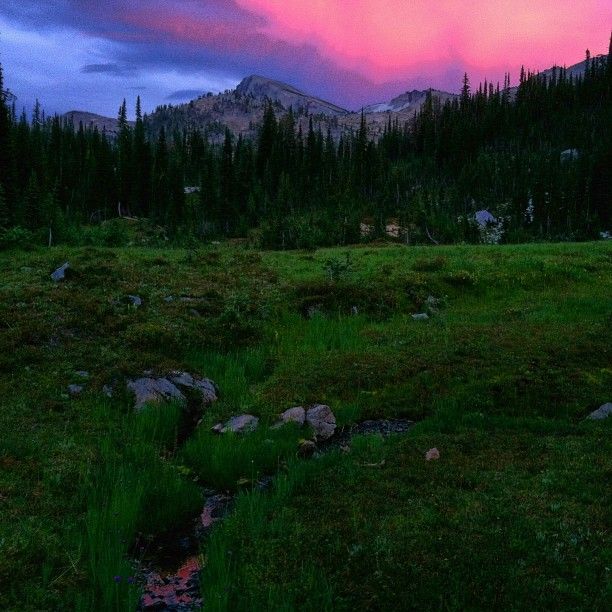 ANOTHER BASE CAMP VIEW FROM UNDERNEATH EAGLE CAP MOUNTAIN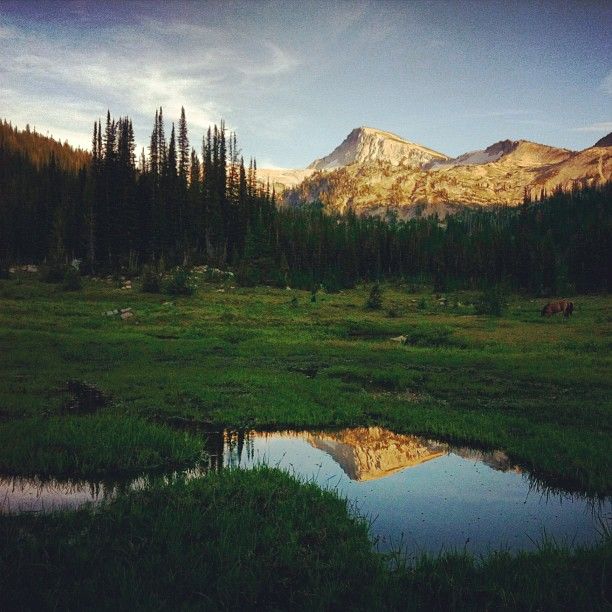 Here are a few links to give you an idea how special these wild parts of the country are, starting with photographer Joe Whittle's blog about his backcountry adventures: (For the stories behind these photos and many more, visit the blog "Winding Light Adventures". To see these photos and more larger, visit the Adventure and Nature galleries on this website.)
Wallowa County Chamber of Commerce
United States Forest Service

Eagle Cap Ranger District